CSM customer stories Q4 2020
Additional production and pricing options
The original PO covered two premium videos, which are CHR and CLA.
We now have Rockwell and Polaris to supplement these stories and the table on the right provides prices for the additional content options that we discussed earlier in the week. I've explained these in more detail below.
At the bottom of this page you will see two examples of videos that have been brought to life with without customer b-roll.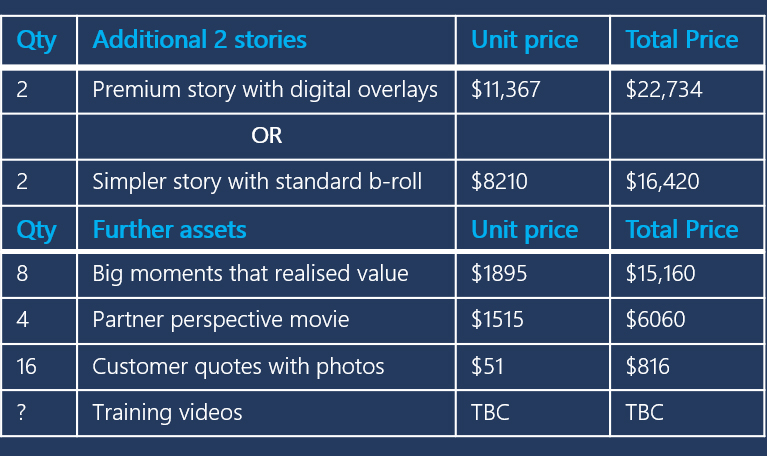 Additional two stories
We've provided 2 standards of production for Rockwell and Polaris. The premium standard is exemplified by the two videos below, both of which had no b-roll content available. If this level of additional budget is not available we will have to discuss what is possible for whatever budget you have.
Customer quotes with photos
The quote will be embedded into the photo in a common design theme. Each quote will support part of the customer journey to Achieve More. Again, these are great for sellers to use and memorize.
8 Big Moments That Realized Value
We will pick out the top 8 anecdotes, each of which will relate to a phase of the Achieve More process. These will be explained as short personal stories to provide powerful first-hand experience of how value was realised. We will deliver 8 separate videos. These will be ideal for customers to self-serve online and for sellers to share during meetings.
Partner Perspective Movies
These are the four partner movies you requested.
Purplebricks Estate Agents | Microsoft Azure
Although we were only allowed to shoot a single interview and no b-roll, we crafted a high quality video by adding digital overlays to carefully sourced library material, relevant to the client industry (which we purchased).
Retail Banking | Microsoft Dynamics 365
Ignore the fact that this is a voice over narrative and consider the treatment (starting from 58 seconds). We would create a style that echos the Catalyst brand and is as dynamic as this video. It would, of course, include customer interview content, too.