KPMG Deal Advisory
Dear Laura, 
Thank you for considering Rich Interactive for the KPMG Deal Advisory Podcast strategy. Following our recent discussion, we have reviewed your brief and outlined some initial high-level thoughts and recommendations here. The next stage will be to meet, explain our recommendations in more detail, and agree on the specific approaches and cost. 
Talk soon,
James and the Rich Interactive team. 
Microsoft case study featuring Rich Interactive as the customer
Video vs Audio
You shared the Deal Advisory event video, citing its potential to engage the target audience if produced professionally. We agree that video is the number one media format to engage an audience, with over 1 billion views on YouTube alone each day. Additionally, 424 million people globally listened to a podcast in 2022. Regardless of the format, production quality is vital. Poor quality shows less respect for the viewer or listener. 
For either format production quality is vital. Retaining audience attention is the only way to get your message across and this is achieved through excellent content and production values that do not distract. 
We propose both formats for KPMG Deal Advisory. 
Why Rich Interactive?
Our approach is based on a deep understanding of the audience mindset, making our processes and outcomes different from most other production companies and agencies. We explain further throughout this webpage and provide evidence, but would like to add a couple of basic credentials before we start: 
Over 20 years

of experience in business storytelling.

 

We work with

global B2B clients including Microsoft, Adobe, Accenture, Avanade, Qlik, and Oceania.

 
Messaging Specialists
In 2019, Microsoft CEO Satya Nadella's team asked their colleagues to create a briefing document for his forthcoming visit to Europe. The document they created was rejected. With only a week to go, Microsoft UK asked Rich Interactive to create the briefing. It was to be based on 40 real customer scenarios, collectively outlining how Microsoft tech has improved business outcomes within the region. Our experience interviewing hundreds of business execs every year has provided the commercial and technical expertise required to talk and think on their wavelengths. 
As part of the same remit, we also created the customer story for his keynote speech at Microsoft's Convergence conference. 
Following this work, we were commissioned by the Microsoft SLT to create a series of videos explaining how to engage with C-Suite decision makers for Microsoft Sales & Marketing teams. You can view these videos by clicking the button below: 
Microsoft CEO telling a Rich Interactive story at Future Decoded
Following this work, we were commissioned by the Microsoft SLT to create a series of videos explaining how to engage with C-Suite decision makers for Microsoft Sales & Marketing teams. You can view these videos by clicking the button below: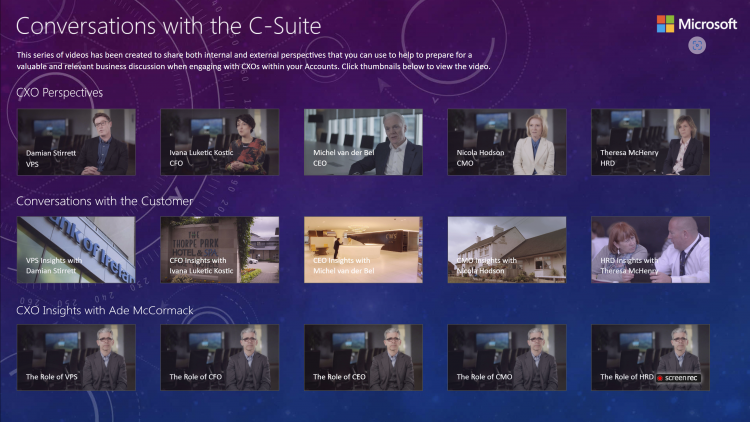 Storytelling that Engages
Personal stories make a big impression. They resonate, compel, and are remembered. This approach with KPMG Deal Maker clients and stakeholders will increase engagement and views. 
Watch an example from our library featuring a small business (a recording artist) telling us how the PRS makes a world of difference to their business. Although the video is an advert for Microsoft's Azure cloud, the format is far more engaging than typical Microsoft promotional materials. 
PRS Microsoft customer story
Branding
We would suggest creating a campaign/series brand for Deal Maker. Please watch these short examples of similar work we have undertaken for Qlik and Oceania: 
High Value Production
High-quality visuals and audio generally receive more views, especially when we can't film in person. In the examples below, we have created a studio environment and combined people who were not filmed at the same time.
The Qlik World video is especially interesting because it was conducted over Teams and used mobile phones to capture the footage, followed by a lot of post-production treatment. 
Oceania Vista global brand:
Accenture Banking Roundtable
Interview techniques that achieve natural and credible stories
Although our customer stories sound natural and flow seamlessly, the process involves shooting 90 minutes to produce a 3-minute video. Each video contains between 50 and 80 edits.
The questions are filmed after the answers have been edited, and the interviewer is often shot in a completely different location. Our interviewers have extensive experience in relaxing the interviewee, encouraging them to tell their story in their own way while ensuring we get all the content we need.
This process takes longer, but the results are significantly different. Viewers are more engaged and influenced, which is ultimately the goal—to align their thinking closer to our customer's proposition. 
Mike Young, Centrica - why I like this approach.
Atomisation
When we film and record, we always capture more content than needed for a typical video or podcast. We can utilize the additional content to create multiple clips, such as short topic videos for social posting.
In the context of KPMG acquisitions and mergers, there are likely to be many topics that we could dive into and allow users to pick the things that interest them the most, via
self-serve on demand.
This recent example with Avanade and SSE shows how additional content can be tailored for promotion without the need to film again. 
SSE Renewables and Avanade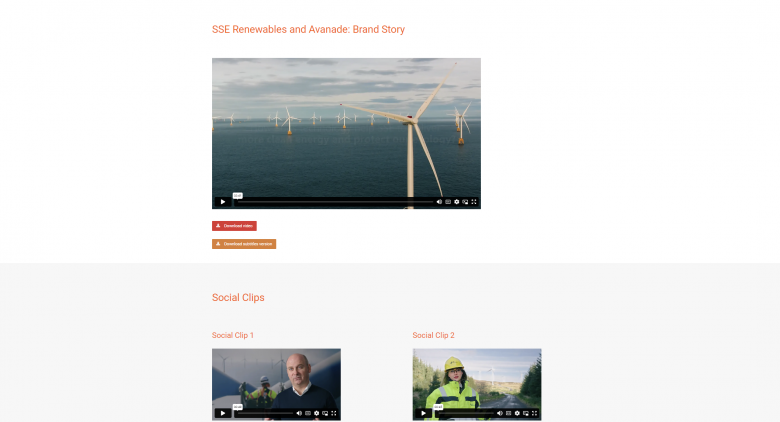 Open Page
Enter password: Interactive
Publishing and Promotion
Regarding publishing and promotion, we can work in several ways to help: 
Rich Interactive is happy to manage this or work with KPMG's existing agency.

 

We will publish the podcast on major platforms such as Google Play, Apple, and Spotify.

 

We will publish the video on all major free video platforms.

 

We will promote the content via social platforms such as LinkedIn and Twitter using paid and organic methods.

 

We also recommend influencer seeding, which involves paid seeding of the podcast to achieve mentions on other "business" podcasts.

 

Reviews are key to engagement, and we will help KPMG manage and gain listener reviews.

 
Next steps
Here are the next steps: 
Review and agree on the budget.

 
Meet to kick off the project.

 
Please let us know your thoughts and if there's anything else you would like us to include or address in the proposal. We look forward to working with you on the KPMG Deal Advisory Podcast strategy. 
Best regards, 
James and the Rich Interactive team.